Welcome to Thursday Blog-Hop. The linky will open at 10PM EST. Please pass it along.

THE RULES
1. Please follow the hosting blog-
bassgiraffe's Thoughts
2. Please visit as many blogs as possible.
3. If someone visits your blog please visit theirs back, but I know that we don't like all blogs we visit so don't feel obligated to follow back if you don't want.
4. Family friendly blogs only, please.
5. You will need to link to your blog post that has the above blog-hop button. Without a post it makes it harder for people to have a proper place to comment and let you know they stopped by.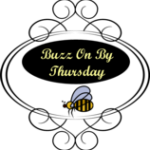 Welcome to "Buzz on by Thursday"
blog hop
, hosted by
Fashionably Organized
and The
The Two Savvy Sisters
!
Buzz on By Thursday is a great way to meet new bloggers and increase your
Google
followers! So join us, we promise you will have a blast!!
If you want to be a part of
Buzz on by Thursday
, just follow these few rules:
Follow ALL of the Hostesses
If you're a new follower make sure to leave us a comment so we can follow you back!
WE DO FOLLOW BACK!
If you are already a follower let us know so you can be entered in the blog spotlight.
Add your blog name and URL to the linky below (only have to add once)
Follow Fashionably Organized, The Two Savvy Sisters and Southern Reflections. Leave comments on each site letting us know you are following us so we can follow you back.
Start to follow as many blogs as you would like. (Make sure you leave a comment so they can follow you back and tell them where you are from!) When you receive a comment from a new follower, return the favor & follow
Our Buzz on By Thursday blog spotlight for this week is
Southern Reflections
. Marlessa of
Southern Reflections
shared a little bit about her site:
Marlessa ia a SAHM to a 3 Year Old Princess, 4 Month Old Prince, And Wife To A God Sent Man I Fell In Love With In 2004!! Her blog is filled with creativity and happiness!!
Please make sure to also follow
Southern Reflections
and leave Marlessa a comment to let her know you came by and visited, and most importantly so she can visit you.
The BUZZ about our
Blog Hop
:
By adding your blog
YOU MAY BE RANDOMLY CHOSEN FOR OUR BLOG SPOTLIGHT OF THE WEEK
!!! We will highlight your blog and bring you many new followers!! The comments from both
Fashionably Organized
and
The Two Savvy Sisters
will be tallied and a blog will be picked at random via
random.org
to be spotlighted next Thursday.
For Additional Entries for Spotlight next Thursday, you may do one or all of the following, but please be sure to leave a separate comment for each one.
- Subscribe to the RSS feed of
Fashionably Organized
and
The Two Savvy Sisters
- Follow
Fashionably Organized
(@FashOrganized) and
The Two Savvy Sisters
(@Twosavvysisters) on
Twitter
.
- Like
Fashionably Organized
and
The Two Savvy Sisters
on
Facebook
.
- Post about Buzz on By Thursday on your blog, and make sure to post the button on the left hand side of this blog within your post. When you leave a comment, be sure to add a link to your post.
- Post the button from
Fashionably Organized
and
The Two Savvy Sisters
on your blog.
Would you like to sponsor Buzz on By Thursday? Please feel free to contact Nicole from The Two Savvy Sisters or Candice from Fashionably Organized for more information.
Welcome to the eighth week of Keepin' Company Thursdays, hosted by myself and
Traci66
. If you'd like the opportunity to gain more followers and become a follower of new blogs, be sure to link up to this meme.
>
Please follow these guidelines:
* Create a Keepin' Company Thursday post. Please include the Keepin' Company Button in your post.
* Follow the first two blogs, which are the hostesses: Heck of a Bunch and Traci66.
* Follow any of the other blogs you choose to and let them know you found them via Keepin' Company Thursday.
* If you get a follow via Keepin' Company Thursday please follow them back.
* Add your blog name and the URL to your Keepin' Company Post to the link below. There is no need to add your link twice. You can do so either on my blog or at Traci66. It will show up at both regardless.
* You can also grab the blog hop code to add to your post if you want the thumbnails to appear in your post.
* If you add the Keepin' Company button to your sidebar and leave either of the hosteses, Heck of a Bunch or Traci66, a comment letting us know where to find it we will randomly draw a blog to be in the #3 spot next week. This week's coveted #3 spot goes to Beth at
Two Monkeys & A Washtub
. Her blog contains reviews and giveaways, as well as other entertaining and informative posts.
~~~~Heck of a Bunch and Traci66 will follow any of the blogs that follow us. I hope this can be a successful way for blogs to connect.~~~

Thirsty for followers?
Come get to know us and stay
for a drink.
This blog hop is hosted by


Obviously MARvelous

&

For The Love Of 4
1. Follow your 2 hostesses: Obviously MArvelous and For The Love of 4
(We both follow back!)
2. Link up your blog on the Linky Below
3. Copy and paste the Thirsty Thursday button in a blog post or on your sidebar
4. Click other links on the Linky and follow some new friends.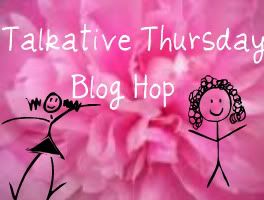 Talkative Thursday's is hosted by
Mommy of One
. I am currently looking for someone to co-host with me, so if interested, please email me at shanna.elizabeth@hotmail.com
RULES:
Follow the blog in the #1 spot (That would be this one)
Grab the Talkative Thursday's button, and make a post on your blog, with the button so new follower's know where to submit comments.
Submit your URL to the linky below, please have it go to your new blog post with the button.
Follow as many blog's as you want!!
You must follow this blog in order to participate. If your a new follower, you can leave a comment on this post letting me know, and I will follow back.