Wow, hard to believe the weekend is almost here and what a busy weekend it is going to be. I have a benefit this weekend to help out on for my cousin who was injured in a ATV accident a couple of months ago. He really messed up his leg and has been in a wheelchair and unable to walk. He lost his job and hasn't been able to work because of the injury, hence the benefit. We are all putting a lot of work into it, so hopefully it turns out great and helps him out.
So now onto the Thursday Blog Hops! ENJOY! :)


If you'd like to participate in Keepin' Company Thursdays, please follow these guidelines:
* Create a Keepin' Company Thursday post. Please include the Keepin' Company Button in your post.
* Follow the first two blogs, which are the hostesses: Heck of a Bunch and Traci66.
* Follow any of the other blogs you choose to and let them know you found them via Keepin' Company Thursday.
* If you get a follow via Keepin' Company Thursday please follow them back.
* Add your blog name and the URL to your Keepin' Company Post to the link below. There is no need to add your link twice. You can do so either on my blog or at Traci66. It will show up at both regardless.
* You can also grab the blog hop code to add to your post if you want the thumbnails to appear in your post.
* If you add the Keepin' Company button to your sidebar and leave either of the hosteses, Heck of a Bunch or Traci66, a comment letting us know where to find it we will randomly draw a blog to be in the #3 spot next week. This week's coveted #3 spot goes to
Inside My Head
.
Welcome to the Traveling Through Thursday Blog Hop, hosted by
Living on Love and Cents
,
Mom On Dealz
,
and
Clipping for Cash
! Traveling Through Thursday and a new kind of blog hop! We will be traveling to a new destination each week!
Join us on our journey as we discover new blogs and gain new followers every week!
The rules are super simple!
1. Follow the Traveling Through Thursday Hosts (Listed as # 1-4)
2. Link up ONLY THE NETWORK being featured this week (Twitter)-Others will be deleted.
3. Grab our Traveling Through button and include it in a post about the event on your blog.
4. Now start following! Be sure to leave a comment so they can follow you back!
Help spread the word and get more followers:
-Put the same linky list code on your blog and you'll have the exact same list!
Welcome to "Buzz on by Thursday" blog hop hosted by
Fashionably Organized
and
The Two Savvy Sisters
! Buzz on by Thursday is a great way to meet new bloggers and increase your Google followers! So join us we promise you will have a blast!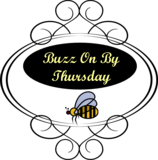 If you want to be a part of Buzz on by Thursday, just follow these few rules:
Follow ALL of the Hostesses, if you're a new follower make sure to leave us a comment so we can follow you back!
WE DO FOLLOW BACK! If you are already a follower let us know.
1. Add your blog name and URL to the linky below (only have to add once) and post about Buzz on By Thursday on your blog, and or post the button on the right hand side of your blog
2. Follow
Fashionably Organized
,
The Two Savvy Sisters
, Leave comments on each site letting us know you are following us so we can follow you back.
3. Start to follow as many blogs as you would like. (Make sure you leave a comment so they can follow you back and tell them where you are from!) When you receive a comment from a new follower, return the favor & follow
Thanks for BEEING a part of Buzz on by Thursday have fun!!!
Welcome to
"Thursday's Friends & Giveaways Cafe"
hosted by me and
Tammy's Two Cents
The
FIRST LINK
is for Meeting New Friends (see the Second Link below for adding your giveaways). Please Follow
Tammy
, our
Guest Host
and me.
A special thank you goes out to Candice of Stash Mama for being our guest host this week.


Thirsty for followers?
Come get to know us and stay for a drink.
This blog hop is hosted by
Obviously MARvelous & For The Love Of 4
1. Follow your 2 hostesses: Obviously MArvelous and For The Love of 4
(We both follow back!)
2. Leave a comment below to let me know you're a new follower with a link to follow you back!
3. Link up your blog on the Linky Below
4. Copy and paste the Thirsty Thursday button in a blog post or on your sidebar
5. Click other links on the Linky and follow some new friends
~Obviously MARvelous
~
I'm Marcie (aka MAR) from Obviously MARvelous! My blog offers a look at my life as an outspoken, funny, tattooed wife and SAHM of 3 as well as some wonderful product reviews and giveaways! Please have a look around and enter a giveaway or two!
&
~For The Love Of 4~
I'm Claudia from For The Love Of 4. My blog is filled with funny stories, loving moments and great reviews. I am a mother to 4 wonderfully blessed sanity suckers and a wife to my hubsof 8 years. Stop by take a look and say hello.
Welcome to
Twitter Hop Thursday
, hosted by
Simply Stacie
,
The King's Court IV
,
Little Yaya's
, and
Review Retreat
!
Would you like more Twitter followers and be introduced to more neat blogs and businesses out there? Come and join us!!
1. Add your Twitter to the MckLinky (you only have to add it to one and it will appear on all).
2. Click on the Twitter for the four hostesses and follow each of them on Twitter. We will follow you back.
3. Follow as many people on Twitter as you like, but make sure to leave comments with links so they'll know where to follow you!
Spread the word and add this MckLinky to your blog!
Write your own post or copy and paste this one. Below the MckLinky box, you'll see "Want to be a part of this Blog Hop? Click here for instructions and code…." Have fun Twitter-Hopping along!
We have selected a
Twitterer of the Week
from last week's entries and the lucky winner is
Amethyst_M
!! They will be in the #5 spot! We will choose next week's winner from everyone who participated today.
Please only add your Twitter url. All other entries will be deleted. Thank you!!!