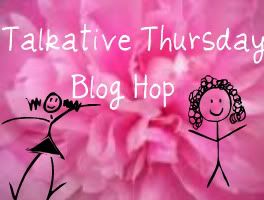 Talkative Thursday's is hosted by
Mommy of One
and co hosted by
Lucas Journey with SPD
.
Announcement:

Link up every Thursday - August 12,19,26 & Sep 1 - and be entered into a drawing to win your button on both our blogs for 1 month.


We will also be starting a "Blog Spotlight". Each week, starting the 19, we will randomly select a blog, and place that blog in the #3 spot on the Linky List.




RULES:
Follow the blog in the #1 and #2 spot
Grab the Talkative Thursday's button, and make a post on your blog, with the button so new follower's know where to submit comments.
Submit your URL to the linky below, please have it go to your new blog post with the button.
Follow as many blog's as you want!!
>
To participate in Keepin' Company Thursdays, please follow these guidelines:
Please follow these guidelines:
* Create a Keepin' Company Thursday post. Please include the Keepin' Company Button in your post.
* Follow the first two blogs, which are the hostesses: Heck of a Bunch and
Traci66
.
* Follow any of the other blogs you choose to and let them know you found them via Keepin' Company Thursday.
* If you get a follow via Keepin' Company Thursday please follow them back.
* Add your blog name and the URL to your Keepin' Company Post to the link below. There is no need to add your link twice. You can do so either on my blog or at Traci66. It will show up at both regardless.
* You can also grab the blog hop code to add to your post if you want the thumbnails to appear in your post.
* If you add the Keepin' Company button to your sidebar and leave either of the hosteses, Heck of a Bunch or Traci66, a comment letting us know where to find it we will randomly draw a blog to be in the #3 spot next week. This week's coveted #3 spot goes to Lisa at
Raising Future Leaders
. She is a stay-at-home mom of six children. Her blog has info on parenting, homeschooling, and homebirth as well as a plethora of other informative posts.
Welcome to the Traveling Through Thursday Blog Hop, hosted by
Living on Love and Cents
,
Mom On Dealz
,
Prenda Le Stelle
, and
Clipping for Cash
!
Traveling Through Thursday and a new kind of blog hop! We will be traveling to a new

destination

each week!
THIS WEEK WE ARE FOLLOWING VIA GOOGLE FRIEND CONNECT.
The rules are super simple!
1. Follow the Thraveling Through Thursday Hosts (Listed as # 1-4)
2. Link up ONLY THE NETWORK being featured this week (your blog)-Others will be deleted.
3. Grab our

Traveling

Through button and include it in a post about the event on your blog. (Use the code)
4. Visit as many pages as you would like and follow them. Be sure to tell them you are a new follower from Traveling Through Thursday.
5. Follow back as many followers as you would like from Traveling Through Thursday. Following back is appreciated!
Help spread the word and get more followers:
-Put the same linky list code on your blog and you'll have the exact same list!
- Your blog visitors can add their blog to your list and it will show up on all lists!
Thirsty for followers?
Come get to know us and stay for a drink.
This blog hop is hosted by
Obviously MARvelous & For The Love Of 4
1. Follow your 2 hostesses: Obviously MArvelous and For The Love of 4
(We both follow back!)
2. Leave a comment below to let me know you're a new follower!
3. Link up your blog on the Linky Below
4. Copy and paste the Thirsty Thursday button in a blog post or on your sidebar
5. Click other links on the Linky and follow some new friends
~Obviously MARvelous
~
I'm Marcie (aka MAR) from Obviously MARvelous! My blog offers a look at my life as an outspoken, funny, tattooed wife and SAHM of 3 as well as some wonderful product reviews and giveaways! Please have a look around and enter a giveaway or two!
&
~For The Love Of 4~
I'm Claudia from For The Love Of 4. My blog is filled with funny
stories, loving moments and great reviews.
I am a mother to 4 wonderfully blessed sanity suckers and a wife to my hubs
of 8 years. Stop by take a look and say hello.