Happy Monday all! Once again, I have forgot to post my own Marvelous Monday Blog Hop. My two week stint at work has turned into a permanent situation for now and I forgot to post last night. I apologize so much for this and hope to get my blog hop up and running again next Monday. In the meantime, here are a few other great blog hops to enjoy!


Welcome to Fancy Meeting You Monday - Blog Hop hosted by Midday Escapades and One 2 Try. We love finding new blogs and hope you join us by linking your blog.
Visit our Featured Blog!
Meet Colleen the wonderful writer behind Shibley Smiles!
Explain briefly what your blog is all about?
My blog is about me as a parent and my trials and tribulations with my family. You will find weekly post as I battle the weight loss beast and a few giveaways thrown in for fun. It is a great place to ask for advice, give advice, and just have fun sharing the rollercoaster of motherhood.
What would you like people to know about you or your blog?
My name is Colleen (pronounced with a long o), I'm married with three children ages 13,10, and 4. I live in Sunny Florida and love it, hurricanes and all. I started my blog by the urging of an old (as in long ago not in age) middle/high school friend, LeeAnn from The Life of Rylie…and Bryce too!, and am totally addicted!
Each week, we will select a blog from the prior week's link up to highlight as the Featured Blog so we can all get to know them a little better.
Here is how you can have others "meet" your blog:
* On the linky,

list your blog with a brief description of your main blog theme

.
Example One 2 Try - Reviews and Giveaways, Midday Escapades - All around fun (whatever your blog specializes in). It can be giveaways, reviews, recipes, parenting, couponing, mommy blog etc. Let others know what your blog is all about in a few short words so they can find the topics they like.
By participating in Fancy Meeting You, please show your hosts some bloggy love by visiting their blogs: Midday Escapades and One 2 Try.

Spread the Love:
* Take a moment to create a Fancy Meeting You post for readers to find out more about you and your blog.
* Add the Fancy Meeting You button to your blog so bloggers know to link up here and be able to comment on your blog!!
* Feel free to share Fancy Meeting You with others by tweeting or posting on Facebook.
Continue to spread the word and find more blogs that you like to read and watch your Fancy Meeting You community grow. It is a fun way to meet and greet the types of blogs you enjoy. If you like them, follow or subscribe to them! It is that simple. Have fun!

Welcome to Making Friends Monday Blog Hop, hosted by
Living on Love and Cents
,
Mon Cheri
,
The Thrifty Things
,
Reviewed By Mom
,
Coupons are Great
.
SPOTLIGHT OF THE WEEK
Each week we will randomly pick a

Spotlight

Blog of the Week! To be choosen you must follow the rules and have our button somewhere on your blog. (We have to be able to find it!) This week's Spotlight is Merideth from
Mommy is Crafty
!
Hi, I'm Merideth! My blog, MommyIsCrafty, is all about my life as Mommy to my 2 1/2 year old daughter, Adison. I love crafting, photography, tinkering in photoshop, shopping, cooking, and trying new things.

I share

all of the above and more on my blog. I've already done one great giveaway, and coming up soon are reviews and more giveaways! I'd love for anyone that follows me to leave a comment so I can be sure to visit and follow you back! Feel free to also subscribe via email so you don't miss any of the exciting things I have coming up! Thanks so much for including me as this week's spotlight for

Making Friends

Monday!
Join us on our journey as we discover new blogs and gain new followers every week!
The rules are super simple but VERY important!
1. Follow the Making Friends Monday

Hosts

(Listed as # 1-5) as well as the Spotlight Blog of the Week (listed as #6)--

They WILL follow you Back! You MUST LEAVE A COMMENT so we can follow you back!
2. Grab our Making Friends Monday button and include it in a post on your blog.
3. Link up to THAT post.
4. Start hopping and remember following back is apprciated!
Help spread the word and get more followers:
-Put the same linky list code on your blog and you'll have the exact same list!
- Your blog visitors can add their blog to your list and it will show up on all lists!
**Don't forget to follow the rules so you have a chance to be the "Spotlight Blog of the Week"!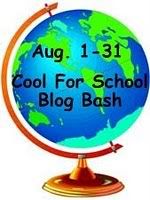 While you are here check out all the Cool For School Giveaways going on! Find out how you can get 10 EXTRA entries
HERE
.
And if you have any giveaways ending THIS WEEK go link up
HERE
. Take a minute to enter some too!
Also I have a
FACEBOOK ONLY
Giveaway going on right now. If you are a facebook fan go check it out. If not ...go like me and enter!