Time for another great blog hop on this wonderful Wednesday. This is my second time participating in this one and it is so much fun! Why don't you take the time and hop on this blog hop? It's a great way to gain new followers as well as new friends! :)
Welcome to the "
Welcome Wednesday
" blog hop, hosted by
Take It From Me
! Welcome Wednesday is a great way to meet new people and learn new things as well as increase your blog followers! So let's have some fun!!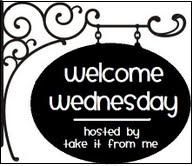 If you want to be a part of Welcome Wednesday, just follow these 5 simple steps:
1.
Follow the
Welcome Wednesday Host
(Take It From Me) as well as the 2 Spotlighted Blogs of the Week. (These will make up the top three slots on the Linky)
2.

Link up your blog name
and URL with our Linky. (You only need to add your info once for it to be seen on all the blog hops)
3.
Grab our Welcome Wednesday button
and include it in a post about the event on your blog.
4.
Go to as many blogs on the MckLinky as you want and Follow them. Be sure to
tell them you are from Welcome Wednesday
!
5.
Be sure to
Follow back any followers you have gained
from our Welcome Wednesday event!
------Blog Spotlights of The Week-----
1.)
Janet from
Your Green Helper
writes: "We help moms save while going green. Organic and eco-friendly deals, coupons, free samples and reviews on all natural items; including personal care, cleaning solutions, food, food storage, children's items and pet products. As a busy mother of two active elementary school kids and stepmom to a college student, I understand the value of both your time and your budget.
Your Green Helper
is part of the
Helping the Mommas
network dedicated to helping moms save money."
2.)
Tonia from
Chic Modern Vintage
writes: "About me and
CMV
, I'm a slight hoarder of clothing, shoes and furniture. Lover of modern vintage style. I also love "thrifting" If your looking for it, I might have it. When I started out blogging I wanted to focus on my many DIY projects and then I quickly realized there are already many that are doing such a fabulous job, and at the same time I love fashion, so I am in the process of merging everything fashion, decor, skin+hair, and more you just to keep in touch to find out. The new "format" begins in July!"
What's neat about our Blog Hop:
- Put the same linky list code on your blog and you'll have the exact same list!
- Your blog visitors can add their blog to your list and it will show up on Everyones lists!
- By adding your blog you may be randomly chosen for our Blog Spotlight of the Week!!!!