It's a great way to start off your week & get more BF's !!
Follow the 4 Hostesses #'s 1 -4

(

leave us a comment so we can follow u back

)

Add your blog to the list (

only have to add once

)

Grab our button to add to your blog post

Start to follow as many blogs as you would like (

Leave a comment so they can follow you back

)

And when you receive a comment from a new follower return the favor & follow them back

( Check back every Tuesday at 12:00 am est to link up at any of the 4 host blogs )



Starting this week we will start to choose a random number every week from the blogs linked and add the chosen blog to the #5 spot to link to the following week ...

All you have to do is link up and we will notify blog and email you the code etc.. so you can link up with us the following week :)

Trailing Tuesdays are hosted by

Familylicious

,

Nine More Months

, and

Sugar Pop Ribbons

! What is Trailing Tuesdays you ask? Well, it's a great way to advertise your blog and find new friends not only for your blog but for your Facebook and Twitter pages as well.

Here are the rules:

1.

FOLLOW THE FIRST THREE BLOGGERS

(become a follower through google friend connect), as well as on Facebook (add as a friend or become a fan) and/or Twitter (become a follower) on the list.
2.

FOLLOW THE FIVE LINKS DIRECTLY ABOVE YOU

,After you follow the first three at the top of the list. When you enter your URL make sure it is to your HOMEPAGE. This is not a giveaway linky. Please enter your Giveaway Linkys on my Giveaway Linky Page you can find it above under the Linky Love tab.
3. GRAB THE TRAILING TUESDAYS BUTTON AND THE LINKY CODE AND MAKE A POST ON YOUR BLOG so that your new followers can comment and let you know they are stopping by.

Make sure you Follow Back everyone who leaves you a comment.

You can find the code for the Trailing Tuesdays button below the button and you can find the code for the linky at the bottom of the post.

Following the first 3 bloggers is mandatory to participate in our awesome Trailing Tuesdays. We ask that you follow at least five bloggers directly above you in addition to the mandatory 3 , but after that you can follow as many others as you like. This way everyone gets someone to follow them and no one is left out. We want this to be beneficial to everyone involved so please be honest and lets have fun not only getting more followers but also finding new blog friends and networking.

As an

added bonus

there will be extra entries in giveaways on the hosting blog sites for being involved. Please check

Familylicious, Nine More Months , and Sugar Pop Ribbons

sites for details.

Welcome to this week's Tuesday Tag-Along blog hop, hosted by

Twee Poppets Review and Giveaway

! This is a great way to discover new blogs while increasing the number of followers for your own blog. Please feel free to grab the TTA button for your blogroll to help bring more bloggers to this blog hop!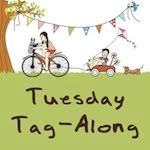 Tuesday Tag-Along button art adapted from the "Follow the Leader
" illustration by
Diana Jones
. I encourage you to visit her at her blog, Sketch & Jones, and her online shop to see more great illustrations and all sorts of wonderful crafts!
Without further ado...
Here's how it works:
Create a new Tuesday Tag-Along blog post. Include the Tuesday Tag-Along button by copying and pasting the code above. (You are also welcome to copy and paste these instructions in their entirety, or any portion of this Tuesday Tag-Along blog post!)

Add your blog name and the URL of your TTA post to the MckLinky below.

Follow Twee Poppets, the hostess blog listed in the first slot. Twee Poppets will follow you back! (Note: If you want Twee Poppets to follow you back, you MUST leave her a comment saying that you are a new follower and leave a link to your blog!)

If you can, please follow the blogs in the three slots before you (e.g., if you're number 20, follow numbers 19, 18, and 17). This is not mandatory, but it will help ensure that everyone who signs up gets a few new followers!

Follow as many other blogs as you want. The more you follow, the more that will follow you back! Be sure to tell them that you're following from Tuesday Tag-Along! You may also want to leave a link to your blog so they can return your follow more easily.

When you get a new follower through Tuesday Tag-Along, be sure to follow them back! It's just common courtesy. :)
The weekly Tuesday Tag-Along MckLinky opens every Monday night at 8:59pm Pacific Standard Time (that's 11:59pm Eastern Standard Time), and the TTA blog post will be posted well in advance of that time. The MckLinky will be open to add your blog until 11:59pm Tuesday night. You then have all week long to visit blogs and return follows!
There is a new list every week. The link you enter one week will not carry over to the next week's MckLinky. Please link up again each week to join in the fun!
Tuesday Tag-Along Blog Hopper of the Week:
Note:
To be eligible to be Blog Hopper of the Week, you MUST place the Tuesday Tag-Along button somewhere on the main page of your blog or website
(and since I'll be checking for it manually, I must be able to actually find it). If the randomly-drawn winner does not meet this condition, a new winner will be randomly selected. If you do not want to place the TTA button on your site, you are still more than welcome to join in the blog hop, you will just not be eligible to be the Blog Hopper of the Week.
Each week, one blog will be chosen randomly from all the links
,
and that lucky blog will be placed in the desirable second slot for the following week's MckLinky!
This week's lucky blog hopper is #219, One Day at a Time. Congratulations!