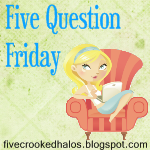 1. If you could go back to college would you change your major? Or, if you were to go to college right now...what major would you choose?
I never went to college after high school, I always said I would wait a year and then go, but that never happened unfortunately. I always wanted to major in sports broadcasting when I was back in high school and still would go after that major today if I went back to college. I love sports and this would be a blast to be able to do.
2. What do you love most about your home?
What I love most about my home is the backyard area. It is big and if you go back far enough, we have everything set up with a firepit and tables so we can go back and hangout in complete privacy.
3. What types of books do you like to read (if you like to read at all)?

I love reading romance novels from authors such as Jackie Collins (my absolute fave) and Carly Phillips. I also love suspense novels from V.C Andrews and Dean Koontz. I am currently reading the first book that I have read in almost 3 years, there just doesn't seems to be a whole lot of time to read nowadays.
4. What is the grossest thing you've ever eaten?

Liver and Onions when I was a kid, that was just plain nasty but my mother and grandmother cooked it all of the time. GROSS!
5. If you HAD to be a character on a TV show, whom would you be?

I would love to be the character of Sarah on the TV show Chuck. Not only is she beautiful, but that looks like a real fun character to play, it would be cool playing a CIA spy, plus you get to be romantically involved with Chuck, who is a little cutie.