You all know by now that I am a HUGE fan and lover of the blog hops. I found a new one today called Welcome Wednesday and if you love to gain new followers to your blog as well as new friends, then hop on this one. The instructions are a little different, but so easy to follow.


Welcome to the "
Welcome Wednesday
" blog hop, hosted by
Take It From Me
! Welcome Wednesday is a great way to meet new people and learn new things as well as increase your blog followers! So let's have some fun!!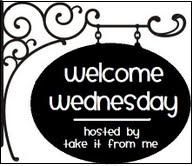 If you want to be a part of Welcome Wednesday, just follow these 5 simple steps:
1.
Follow the
Welcome Wednesday Host
(Take It From Me) as well as the 2 Spotlighted Blogs of the Week. (These will make up the top three slots on the Linky)
2. Link up your blog name and URL with our Linky. (You only need to add your info once for it to be seen on all the blog hops)
3.
Grab our Welcome Wednesday button
and include it in a post about the event on your blog.
4. Go to as many blogs on the MckLinky as you want and Follow them. Be sure to tell them you are from Welcome Wednesday!
5.
Be sure to
Follow back
any followers you have gained from our Welcome Wednesday event!
------Blog Spotlights of The Week-----
1)
Lindsay from
Our Family Treat
writes:
Our Family Treat
is a family friendly cooking blog that my husband and I do together. He has a full time job, and I am a full time Mom, so cooking in the evening is a great way for us to spend time together. Some of our best moments are when we are in the kitchen cooking, joking and talking. Our recipes are simple, delicious, and just a taste of what our family is about. We hope that we can inspire other people to cook together and eat dinner as a family. Buon Appetito!
2)
Julie from
Live, Laugh, Love
writes: I am a stay at home, homeschooling mom to 3 beautiful girls, ages 12 , 11 and almost 2.
Live, Laugh, Love
is mostly about our homeschooling adventures, we just finished up our 3rd year, with a lot of other random things thrown in ;) And, as if 3 girls, homeschooling and blogging doesn't keep me busy enough LOL, I also run a homeschooling forum. I hope you'll visit my blog and I'm looking forward to meeting some new blogging friends! :)
What's neat about our Blog Hop
:
- Put the same
linky list code
on your blog and you'll have the exact same list!
- Your blog visitors can add their blog to your list and it will show up on
Everyones
lists!
- By adding your blog you may be randomly chosen for our
Blog Spotlight of the Week
!!!!