Welcome to the third edition of Blog Hop Friday, hosted by My New Life As Mom, Chubby Cheeks Thinks, Take A Mom's Word For It, Bree Bee's, This Adventure Our Life and Belly Charms!We continue to invite you and your friends to link up every Friday and join us for a wonderful blog hopping adventure! We're all about making friends and having fun so come join us! Here's how you can join in on the fun;


Link up to your blog, using our inlinkz link list, below.
Follow the host/hostesses located in the first lucky 7 slots.
Follow any other blogs that you feel appropriate! :)
Add the Blog Hop Friday button to your sidebar.
When following a new blog, please remember to leave a little personal comment love.
If you get a new follower, please feel free to reciprocate the love!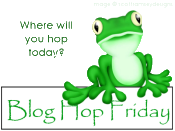 This is a new list every week, so please remember to come back and link up, every week!
Please remember to send a little comment love when you follow someone's blog. The point of this is to gain new followers and new friends, so please take a second to send a personal comment on their latest post, something you like about their site or maybe something you find interesting.
Hello and welcome to Friendly Friday Follow... a link-up meme which is hosted every Friday. The plan is to meet many new followers and make new friends each week.
The RULES to join in are very simple!
Grab the button above
Add your link to the list
Visit as many other blogs as you can
Follow the ones you like (and comment on their blog to say that you are following)
HAVE FUN!
PS. DON'T FORGET: Ollie's Birthday Bash is starting on Monday and we are giving away some great stuff!! Don't forget to stop by and enter the giveaways. They will be going on all week and we will be having approximately 3 giveaways a day!