Good Tuesday morning and Happy Holidays! It has been crazy busy around my house as we all get ready for Christmas on Saturday. Thankfully, I have the week off from work so I can get some of these preparations done including housework and maybe a little computer work too. Hope everyone is getting ready for your special celebrations! Here's a little blog hopping for you to take a break and check out some great blogs!

It's everyone's favorite day of the week again, Tuesday..
So that means it's time to link up & follow for
Follow all 3 Hosts & Guest Host

- Spots 1-4

leave a comment w/ link so we can follow

back

( only leave a comment that you follow if you actually follow )
Snag our button & make a F.M.B.T. post.

After you post use that link to add your blog to the hop along with blog name
( NO BLOG HOPs & GIVEAWAYS PLEASE ) These entries will be deleted.
Follow the blogs you like & Follow Back who follows you
Link up every Tuesday at 12:00 am est
Monday, December 20, 2010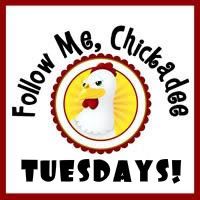 *~*~Welcome to our newest hostess, Carrie With Children!!*~*~
Each week, simply stop by at any of these three blogs for a chance to link up and m
eet new and exciting bloggers out on the interwebz!
All we ask is that you follow a few simple guidelines:
Add a main link to your blog each week (Linky will open every Monday night at 10 p.m. EST and close at 12:01 a.m. on Wednesday mornings EST).

Follow whichever blog you like; all we ask is that you leave a comment telling them that you found them from Follow Me, Chickadee!

You don't have to follow every blog that follows you...but make sure that you follow the blogs that really interest you!

If you want to put the blog hop code or the Chickadee button on your Tuesday post on your blog, we welcome it!
*~In The Spotlight This Week~*
I'm a mom, a wife, a product manager, a sister, a daughter, and a friend. So let me try to elaborate on that!
I'm married to a great man and we've been married for 3 years now. 3 years you ask… with 4 kids? Yes, this is my second marriage and his first. I have 3 daughters that he has fully accepted as his own and he loves unconditionally. I also have a 9-month-old son! Talk about starting over! Whew.
My oldest is Caitlin who's almost 15. She incredibly intelligent loves sports, community theater, playing her sax and the piano. She has goals for her future, knows what she wants, and probably won't let anything stop her!
Next is Natalie who's 11. She my blond haired, blue-eyed baby! She's always been the child that would sit and entertain her self for hours. She'd sit at the table and draw, color, or play with Play-Doe and really she still does to this day. She's very outgoing, loves talking with her friends, and has her own unique fashion sense and doesn't care what others think about it.
Lauren is next and she's 8. She's just Lauren! Always concerned about people and doesn't like it when people are upset with her. She's pretty easy going and is the one who's always excited to go to school.
Andrew is the baby. He's a mama's boy right now, but I'm sure that will change, as he gets older. He doesn't really do a whole lot right now. But he's cute, cuddly, and adored by his sisters! Poor kid doesn't stand a chance.
They're my life and I love them more than anything. I would love to be able to stay home with them, participate in school events more, take part in the school PTO, and all the things that I feel I miss out on by working. Maybe someday.
Work. Ahh…. yes. I work full time. It makes things more challenging, but who doesn't like a good challenge? I work for a small software development company as a product manager. It's similar to a project manager, but it follows an Agile methodology as opposed to the traditional project management style. On occasion I do some UX (usability/user experience) and QA (quality assurance) work to help out the team get things done on time. I could help the developers, but that'd be really bad. My programming skills are slightly lacking!
Well, that's me in a nutshell I guess.
Stop by and say hi to this Chickadee and her family!